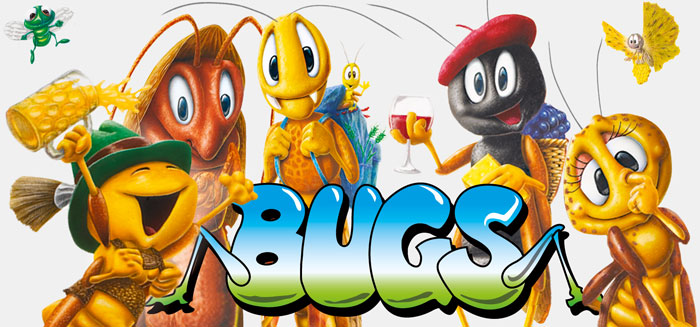 In this section, you will find information about many of our offered in-stock feeder animals.
Before you retrieve specialised expertise through our insect portraits on the individual feeder animals, we would like to recommend reading about the following topics!
THE PROPER HANDLING AND CARE OF BUGS INSECTS

For your satisfaction and for the benefit of our living insects, you will find a few rules and general tips for handling the feeding insects. These instructions must be followed closely by the dealer; the information is also important and helpful for the consumer!

Please be aware that a warranty of BUGS-International related to its feeding insects expires the moment our goods are not handled professionally!

Acclimatization

Depending on the temperature difference that needs to be compensated, an acclimatization period for the insects can take up to 3 hours.

The insects (goods) must be removed from the packaging immediately after they have been delivered.

In order to avoid an autonomous heat-up of the insects, at exterior temperatures of over 25° C, the sales packaging must be placed far enough apart before they are stacked and sold. An ambient temperature of 22° C must be retained and an "all-round" air access must be made possible in order to ensure an effective and simultaneously gentle cooling.

At exterior temperature under 5° C, insects often fall into a so-called torpor. In this case as well, the sales packaging must be separated after delivery. The ambient temperature must be between 22° C and 23° C in order to avoid the insects receiving a temperature shock and in order to guarantee their gentle awakening. The shipping carton works like a cooler. The goods must be removed from the shipping carton immediately upon receipt.

Prior to opening of the packaging box, "loose goods" – insects that are delivered in large packages – must be acclimatized under the same conditions as the "canned goods". This does not apply to mealworms, fly maggots, annelids and honey worms. These must be put into the refrigerator immediately.

Storage: Temperature

The ideal storage temperature for our live feeding insects and their larva is between 18-22° C. Fly maggots, annelids, mealworms and honey worms must be stored in the refrigerator at 4–5° C.

Storage: City

The storage area must never be subject to direct sunlight. Even the proximity to heaters or heater fans and other sources of heat is just as unsuitable as the proximity to heated terrariums and aquariums, but also lampshades or the air discharge opening of refrigerators and top-opening freezers.

It is imperative to take into consideration that the storage place is not subject to a draft and is not located near doors, hallways/passageways or near the floor.

The storage near cleaning and disinfectant products, biocidal products, mites control agents or other insecticides for home and pet use is not suitable. The same applies to cat litter, since this often contains anti-insect materials.

Storage: Feed and moisture

The introduction of feed and/or moisture in the sales packaging is strictly prohibited in terms of feed regulations. It is also counter-productive in terms of the benevolent animal protection.

Through the introduction of feed and/or moisture in the sales packaging, the material changes and is therefore no longer a BUGS-International product. In the process, all liability of BUGS-International GmbH immediately ceases for the affected product.

Furthermore, the introduction of feed and moisture supports the growth of harmful germs.

What it means for the distributor:

Create the optimal storage environment in accordance with the above mentioned BUGS-International rules and do not open the sales packaging. While you search for a suitable location for the storage of our feeder insects in your store/sales area, please also consider the possibilities and advantages that are offered by a climate chamber.

BUGS-International supplies the highest quality feeder insects and will properly advise you if you require assistance. However, if our products are incorrectly cared for, handled or stored, or if the products are stacked, then our guarantee is no longer valid since we are well aware of our responsibility.

If you are or would like to become a regular customer and have any questions related to this, or if you are unsure regarding your own storage facility, please contact us! Please review our notices in the sections "Company BUGS + People" and the further information in the General Terms and Conditions.

What is means for the consumer:

Please pay attention to the manner in which the BUGS-International feeder insects are stored and presented for sale at your local retailer/distributor. We recommend purchasing our insects immediately upon delivery and feeding them to your animals as soon as possible. In case you are unable or do not want to feed all of the insects contained in a package, then please make sure you carefully read the housing recommendations for at-home storage. You will find these in the individual insect descriptions.

Aside from the general regulatory information, our sales packaging includes a "circled" number that appears on the lid or on the label. The number is a part of our company's "feeder animal" code. Even if you take the time to read through the individually presented insect types, at the beginning of a description you will find the respective code numbers.

This number is intended to serve as assistance in order to gauge the approximate size of the feeder animals for your mammals. A table that includes the descriptions of the code numbers is available in a large format on the very bottom of this page as well as in a somewhat more compact version in the "Downloads" section.

These tables were originally designed for zoo specialist shops so that, in particular, inexperienced and uncertain customers could inform themselves about the most suitable feeder animals on site. If you are a retailer, you are more than welcome to download this table, print it out, and hang it near the BUGS-International feeder insects.

CAUTION:
In general, these feeder animal codes are only intended as advice and support and the information contained therein is by no means binding.


In the descriptions, you can find lab findings on many animal types. We specifically call your attention to the fact that the corresponding analyses are only implemented on animals in our own company! That means that the examination values do not originate from third-party sources and/or have not been copied!

A brief but important bit of information for the "insiders" amongst you: our insect descriptions were co-written by Heiko Werning!

You're not an "insider" or you live in a country far far away from Germany?

Okay, let's see: Heiko Werning is well-known as a German reptile researcher, journalist and author. In (not only) the animal world, he has written a variety of texts, articles and books. Mr. Werning is an editor with the reptile magazines "REPTILIA", "TERRARIA" and "DRACO" published by the "Natur-und-Tier" publishing company in Münster/Germany.

Have fun perusing, reading and informing yourself throughout our website!